08-28-2012, 08:05 AM
Junior Baker

Join Date: Aug 2012

Posts: 1
Looking for a chocolate krinkle recipe
---
I am looking for a recipe for easy chocolate crinkles,I lost the recipe.
made them last year,can anyone help me? Thanks in advance!!
Lori
08-28-2012, 08:27 AM
Senior Baker

Join Date: Nov 2003

Location:

Posts: 21,893
---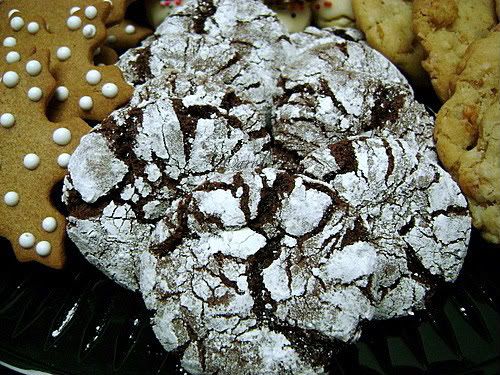 Hi Lori-welcome to the forum-I'm Carol from New England.
I made these last Christmas for a cookie tray-they're fantastic......hope this is what you're looking for..........
I hadn't made these cookies in a LONG time-one of the reasons being every time I make them ahead for anything, the confectioners' sugar would get wet-looking and turn a weird color.
I read somewhere that if you roll the balls of dough for cookies that are going to be coated in confectioners' sugar in granulated sugar before the roll in the confectioners' sugar that the confectioners' sugar stays nice and white. I thought I'd give that hint a test run and see how it worked.
It works GREAT! I had some of these cookies leftover here and that confectioners' sugar was just as white on day 3 as it was the day I made them. It doesn't hold as well in the hot humid weather but still is better than not using the granulated sugar first. During the winter? Perfect!
EASY CHOCOLATE CRACKLES
(Source: adapted from allrecipes-recipe from Scarlett Thornley)
1 (18.25 oz.) pkg. devil's food cake mix
1/2 c. butter flavored shortening
1 Tbsp. water
2 eggs
Granulated sugar
Confectioners' sugar
Preheat oven to 375 degrees. Grease cookie sheets.
In a mixing bowl with mixer at medium speed, beat shortening, water and eggs; add cake mix and mix until smooth.
Roll dough into 1 1/4" balls; roll lightly in granulated sugar, then roll heavily in confectioners' sugar. Place 2" apart on prepared baking sheets.
Bake @ 375 degrees for 8-10 minutes. Let cookies sit on pan for 1-2 minutes; remove from pan to wire rack and cool completely. Makes about 4 dozen.
NOTE: Rolling the dough balls in granulated sugar before rolling them in the confectioners' sugar keeps the confectioners' sugar from turning a grayish color if sitting overnight. These cookies looked just as good as the day they were made 3 days after.
__________________
Carol
08-30-2012, 10:48 PM
Senior Baker

Join Date: Oct 2007

Location: Elk Grove, CA

Posts: 4,673
---
Martha Stewart has the best so far that I like... She uses dark chocolate. I make her recipe every Christmas. It is VERY VERY chocolatey... FABULOUS tasting..
__________________
If you do not like what you see, then do not look at it nor respond to it.
All times are GMT -5. The time now is
08:37 AM
.